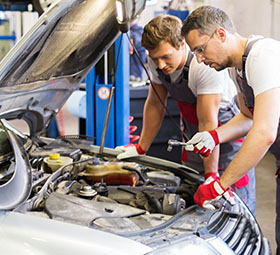 With over 50 years of experience in fixing and servicing automobiles, Remington Auto Repair's knowledge is unprecedented. The next time you're not sure what to do with your car or truck, bring it to us.
You can trust our skilled mechanics to correctly diagnose the problem and perform the right repair work. Leave it to us to have your vehicle performing like it should in no time at all.
Experienced Auto Mechanics You Can Trust Your Car With
All Manner Of Automotive Repair Work Carried Out
General repairs and component replacement

Transmission repair

Overhauling service

Brake and suspension replacement and repair

Air conditioning repair
Has your vehicle broken down or been in an accident? Call us for
prompt towing service.
Affordable Automotive Repairs
For You in Saint Paul, MN