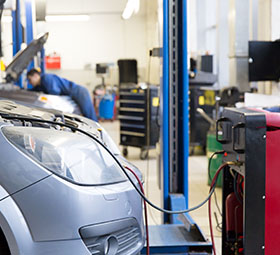 If your car's air conditioning system isn't cooling efficiently and you're unable to find out the reason behind it, count on Remington Auto Repair to get to the root of the problem quickly.
We partner with Serv I Quip, one of the leading suppliers of AC testing equipment for vehicles in the USA. With advanced diagnostic testing and inspection, our knowledgeable and experienced technicians will figure out the cause of the problem and fix it. You can drive back home in a car that's once again comfortably cool.
Let Us Get Your Air Conditioning System Up And Running
Every Part Of Your Car's A/C System Will Be Repaired
Get your car's A/C fixed affordably. We work directly with ACDelco, CARiD, and many other suppliers of OE-quality aftermarket AC parts to ensure your repair will not break the bank.Our technicians will repair and replace compressors, condensers, evaporators, and air filters. Batteries will also be recharged to extract optimum performance for the A/C system.
You can benefit from our comprehensive yet affordable auto A/C repair service across Saint Paul, MN.
Call us the next time
you face a problem with your car's A/C.
Air Conditioning Repairs To Make
Your Drive Comfortable